A Book (and online videos!) that will help you to
let go of stress while finding your flexibility!
Life flex­i­bil­i­ty and body flex­i­bil­i­ty go hand in hand — keep read­ing to dis­cov­er how to devel­op both!
---
"

Establish a rock-solid Meditation Practice, and Learn Life Flexibility"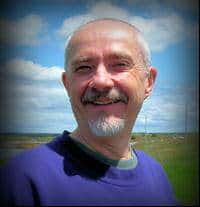 From: Wayne C. Allen
RE: The Flex­i­bil­i­ty you've always desired…
Dear Friend,
I'm Wayne C. Allen. I was a psychotherapist and Bodyworker from 1981 until my retirement in 2013. I taught my clients flexible, self-responsible ways of being.
---
I helped them to combat:
the kinds of rigid, inflex­i­ble think­ing that caus­es peo­ple to fear the present and dread the future
the neg­a­tive mind-sets that lead to repeat­ing behav­iours that get them lousy results
the mis­tak­en view that the mind alone is worth exploring
their reluc­tance to explore how their bod­ies have been adverse­ly affect­ed by their life-long choices
A few years ago, my wife Dar­bel­la and I were asked to lead a 3‑hour Med­i­ta­tion Prac­tice sem­i­nar on alter­na­tives to drugs for pain man­age­ment, this for Ontar­i­o's Work­place Safe­ty & Insur­ance Board (WSIB.) At the end of the sem­i­nar, we offered to run an all day workshop.
We end­ed up cre­at­ing a DVD and book, fea­tur­ing the best of what we teach around here—self-responsible liv­ing and being.
Through­out the book and DVD, we con­trast­ed East­ern and West­ern approach­es to liv­ing, to Body­work and exer­cise, and to life flexibility.
In 2011, we re-struc­tured the entire project, mak­ing it per­fect for any­one who wants to cre­ate a new way of being, while gain­ing phys­i­cal flexibility.
This downloadable e‑book, combined with online videos, is truly life-changing.
You may have expe­ri­enced West­ern psy­chother­a­py, which is often called the "talk­ing cure." While there are body ele­ments to this: things like psy­chodra­ma (act­ing out sce­nar­ios, in groups) and Gestalt, which has many phys­i­cal aspects, you

like­ly haven't thought of body and mind work­ing together.

In my clin­i­cal prac­tice, I had years of suc­cess with the "talk­ing cure." What I noticed, how­ev­er, was that the relief tend­ed to be men­tal—in oth­er words, peo­ple gained com­mu­ni­ca­tion skills, bet­ter under­stand­ing of their sto­ries, and tools for talk­ing through emerg­ing issues.

What wasn't hap­pen­ing was any (or much) change on the phys­i­cal level.

Peo­ple with great men­tal cop­ing skills were still in phys­i­cal and emo­tion­al pain, and

things weren't get­ting bet­ter with time.
I start­ed explor­ing adding in all the East­ern philoso­phies and tech­niques I'd learned. I real­ized that there was a direct and fun­da­men­tal con­nec­tion between what peo­ple thought (clung to) and what was hap­pen­ing in their bodies.
I added in a West­ern ver­sion of Body­work. Body­work the­o­ry states that our bod­ies hold with­in their phys­i­cal struc­ture the sto­ry of our unre­solved issues and past trau­mas, phys­i­cal and psy­cho­log­i­cal. A trained Body­work prac­ti­tion­er can sim­ply look at how you car­ry your­self and can there­by tell you much of your life story.
So, let's apply this to you. You might ask yourself:
"

What, specifically, might I do differently, to create more spaciousness in my life and flexibility in my body?"

East­ern meth­ods assume that the body is filled with ener­gy. This ener­gy can be direct­ed, and used for heal­ing. You'll hear us talk a bit about merid­i­ans, about ener­gy (called chi or Qi,) and about how ener­gy block­ages cause the body to be "out of balance."

In East­ern thought, our bod­ies are seen holis­ti­cal­ly, as Body­Mind­Spir­it. We are designed to nat­u­ral­ly be in bal­ance. Inter­nal ill­ness­es and exter­nal injuries cause the ener­gy to flow un-nat­u­ral­ly, and this in turn leads to pain and inflexibility.
One goal of this program is greater energy flow—we assume that this will happen as the body comes more and more into balance.
In oth­er words, through spe­cif­ic exer­cis­es and Med­i­ta­tion Prac­tice, we'll treat the imbal­ance, and allow "bal­ance" to take care of itself.
We men­tioned that there are things you'd need to "get," and here's the first one.
You will need to accept the idea that your body is

hold­ing unex­pressed emo­tions and trau­mas.

These unex­pressed items almost always start small, are unno­ticed and 'stuffed,' and grow larg­er, until we can ignore them no more.
We call this under­stand­ing "the core of self-responsibility."
In oth­er words,
"

I am how I am, right now, because of how I thought, acted, and dealt with my life, up to now."

I'm ask­ing you to look to your­self, to iden­ti­fy areas you have been ignor­ing, and to gen­tly turn your atten­tion to those things. No one but you can turn the tide. You'll have to break habits and learn to think and act in a new way, but hey, the way you were doing things hasn't exact­ly panned out, now has it?
The real work is always self-work.
---
Pain and Suffering
Pain is one real­i­ty that touch­es all of our lives. For all of us, there will be the emo­tion­al pain of grief and loss. If we are injured, there must be phys­i­cal pain. In every life, pain is not optional.
Suffering, however, is optional.
All suf­fer­ing is self-imposed. The Buddha's first truth is, "Life is suf­fer­ing." But his sec­ond truth is, "All suf­fer­ing is caused by cling­ing and aversion."
One root of suf­fer­ing comes from

cling­ing to the past

—want­i­ng every­thing to be the way it was before the 'bad things' hap­pened. This, of course, will not and can­not ever hap­pen, no mat­ter how much you wish it were so. And so, you suffer.
The oth­er root of suf­fer­ing comes from

dread­ing the future

—and mak­ing that future as grim as pos­si­ble. I won't get into why we do this—it's not worth the read­ing. This imag­i­nary sto­ry caus­es us to phys­i­cal­ly tight­en up, and to dump a load of adren­a­line into our systems—and this, in turn, adds to our inflex­i­bil­i­ty and misery.
Most choose hard­en­ing and tight­en­ing around their mis­ery, while adding in the "This isn't fair" litany. And so, they suffer.
So, what is the alternative?
The Buddha's third truth: If you let go of cling­ing and aver­sion, and live your life ful­ly and com­plete­ly, you can let go of suf­fer­ing (but not pain, sick­ness, and death—this is not optional!)
In other words, situations do not change—you do!
I am not your min­i­miz­ing pain—I am sim­ply say­ing that it is 'how it is.' There will always be phys­i­cal pain, and there will always be sit­u­a­tions that are ago­niz­ing. There will always be depraved peo­ple prey­ing on inno­cents, and tragedy and death are as much a part of life a blue skies and sun­sets. Bemoan­ing the exis­tence of such painful sit­u­a­tions changes pre­cise­ly nothing.
Cre­at­ing anoth­er way of being with the sit­u­a­tion is always pos­si­ble. The key to liv­ing life with a min­i­mum of suf­fer­ing is to hold life, and your opin­ions, loose­ly. While it is tempt­ing to play the "It's not fair" game, it is essen­tial to remem­ber that this accom­plish­es noth­ing in the real world.
---
Our "Finding Your Flexibility" Program is a Great Alternative! You'll find Peace, Presence, Contentment — and Will Learn to Drop the Stories That are no Longer Working
Build­ing upon the insights con­tained in my pop­u­lar book, This End­less Moment, this down­load­able book and online video com­bi­na­tion pro­vides an excel­lent oppor­tu­ni­ty to find peace, pres­ence, con­tent­ment, by devel­op­ing a ground­ed, cen­tered med­i­ta­tion practice.
You'll learn flex­i­ble body move­ment, (Qi Gong, Sup­port­ed Yoga, and walk­ing med­i­ta­tion), Body and Breath­work tech­niques, and Zen-based Mind­ful­ness approach­es to liv­ing life ful­ly and deeply.
You will dis­cov­er

a pow­er­ful Zen Med­i­ta­tion Prac­tice and Mind­ful­ness relax­ation tech­niques, geared toward find­ing inner peace and tranquility.

You will explore

tra­di­tion­al East­ern approach­es to the move­ment of Qi Energy.

You will learn

two yoga sets designed to increase your flex­i­bil­i­ty and lev­el of relaxation.

You will dis­cov­er

how to breathe effi­cient­ly and deeply.

You will dis­cov­er

how to see your body's hold­ing pat­terns, to learn to adjust your body pos­ture, so as to reset your­self to "neu­tral."

You will learn

Qi Gong tech­niques that will allow you to devel­op and strength­en your Qi, as a heal­ing, calm­ing, and med­i­ta­tive force.
You will learn to look at your life dif­fer­ent­ly. You'll learn to be self-responsible—to take an active part in how you view and live your life. You will find a new sense of free­dom, as you accept your­self, as you are—where you are.
---
Our down­load­able pdf e‑book,

Find­ing Your Flexibility

Links to a series of online videos

that demon­strate all of the tech­niques talked about in the e‑book
You'll also receive, absolute­ly free,

access to 6 Med­i­ta­tion Prac­tice audio files

.
Please Note!
The down­load­able book is in PDF for­mat, so you must have a pdf read­er installed on your computer.
---
This Meditation Practice, Zen living and online video set is designed to help you find your own centre, while at the same time reducing your stress.
As with all of our products, we have complete confidence that you will learn all you need to know about Finding Your Flexibility.
In fact, we guarantee it!
---
The next move is up to you.
I've shown you that pur­chas­ing Find­ing Your Flex­i­bil­i­ty is as risk-free as an offer can come. You and I both know that if you've read this far in this let­ter, you're seri­ous­ly
inter­est­ed in learn­ing and exper­i­ment­ing with a new way of liv­ing. All that's left to do now is take action.
Find­ing Your Flex­i­bil­i­ty is a down­load­able e‑book (pdf), and online video files, with BONUS audio Meditations.
◊ cost is $35.00, but is on Spe­cial for $21.00!
---
Available format:
* down­load­able pdf book, and Online videos
* Pub­lish­er: The Phoenix Cen­tre Press (June 1, 2010)
* Lan­guage: English
Purchase Options
Reg­u­lar Price: $35.00–pdf Down­load­able Book, videos
Spe­cial Price!!! — $21.00 (40% discount)
Order PDF and Videos
---
I could go on and on with rea­sons to pur­chase Find­ing Your Flex­i­bil­i­ty, but here's the point: you will find your­self firm­ly plant­ed in your body, with more flex­i­bil­i­ty, and at peace!
Do it today!
Warm­ly,


Only from The Phoenix Cen­tre Press
About the Author: Wayne C. Allen is known on the web as the Sim­ple Zen Guy. Wayne was a Pri­vate Prac­tice Coun­sel­lor in Ontario until June of 2013. Wayne is the author of five books, the lat­est being The. Best. Rela­tion­ship. Ever.