This Endless Moment, 2nd edition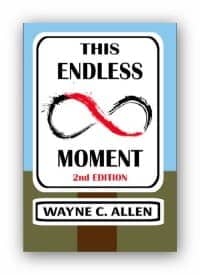 This End­less Moment, 2nd edi­tion is now available!
The new ver­sion has 60 plus more pages of insights and helps, includ­ing a sec­tion on Zen. There's also a sec­tion of exercises.
Revised in 2017, This End­less Moment, 2nd edi­tion presents a sim­ple, direct, and clear secret for unlock­ing your full potential.
In my book, you will discover:
~ ways to enter the peace and contentment of "pedal to the metal" living
~ Eastern approaches to presence and focus
~ tools for deepening your relationships, having great sexual experiences, and
~ how to live with passion, curiosity and excitement!
---
Check out what's in the book here.
The paper­back ver­sion is here:
This End­less Moment, 2nd. edition
The kin­dle ver­sion is here:
This End­less Moment 2nd, edition