A new version of This Endless Moment is coming soon!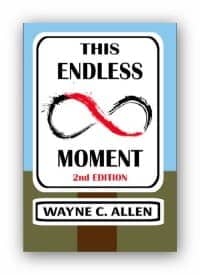 Just a quick­ie announce­ment that I'm almost done with the final edit of a revised ver­sion of This End­less Moment, my first and most pop­u­lar book.
---
This End­less Moment is an amaz­ing book on liv­ing the enlight­ened life. A peren­ni­al best-sell­er, and used as a text­book for new ther­a­pists, this book quite sim­ply changes lives. I've received count­less thank you's from sat­is­fied read­ers, who have used the meth­ods described in the book and found real peace and deep­er life meaning.
I started the rewrite in May, and expect it to be available by February.
(And this is me, adding in that, indeed, the book became available in January of 2017. Check out This Endless Moment 2nd. edition here!)
I've added 60 or so pages, as well as a bunch of exer­cis­es, and mod­ern­ized the lan­guage. I want­ed an already excel­lent book to be even more help­ful.
I think you'll like it! Stay posted!