Half Asleep in the Bud­dha Hall — Final­ly, there's a way to bring pres­ence, mind­ful atten­tion, and bal­ance to liv­ing your life in the 21st century
If you are confused, lost, sick and tired of the rat race, and want to find depth, intimacy, and clarity, read on!
"

You can take charge of your life, by learning simple, Zen principles of living."
My book, Half Asleep in the Buddha Hall, will
help you find the peace, cen­tered-ness, and con­tent­ment you have been seeking
explain how to devel­op and deep­en your self-know­ing, "cut your­self some slack," and dis­cov­er how to be with your life as it unfolds.
give you tools for devel­op­ing peace and contentment.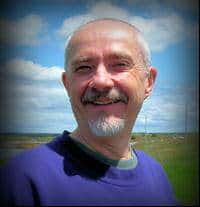 From: Wayne C. Allen
RE: It's time for you to turn your life around.
Let's face it. So far, the 21st century has been a challenge, to say the least
Here are a few issues:
exter­nal sys­tems that seemed to have sup­port­ed peo­ple in the past (things like fam­i­ly, church, com­mu­ni­ty, etc.) have been on life-sup­port for at least the last two generations.
the media bom­bards us with what I call the "be more, have more, hap­pi­ness" model—this mod­el sug­gests that what we have and how we are seen by oth­ers leads to a more ful­fill­ing life. Except that most peo­ple I know have nev­er been unhappier.
you've like­ly dis­cov­ered that exter­nals—(val­i­da­tion, piles of stuff, etc.) are not the solu­tion. All we end up with is stress and the desire for more.
---
For centuries, certain people have found the only authentic way to step out of the game—to fully live in the present moment.
I know. You're frustrated and disheartened. In the first decade of the 21st century, we've seen:
9/11
end­less wars in the Mid­dle East and Afghanistan
increas­es in vio­lence against women and children
hope­less­ness and help­less­ness as the world econ­o­my tot­ters on the brink
destruc­tive cli­mate change
increas­es in dis­ease, depression
peo­ple becom­ing so frus­trat­ed that they are tak­ing to the streets
It's hard to believe that a sim­ple book has prac­ti­cal, down-to-earth meth­ods and approach­es that will help you not only to cope, but to thrive. I want to assure you that Half Asleep in the Bud­dha Hall, brings you into direct con­tact with the wis­dom of the East, and espe­cial­ly the light of Zen.
You'll discover how to find wisdom and depth. The Zen principles and stories guide you in a new and powerful direction.
The book is lib­er­al­ly sprin­kled with teach­ing sto­ries, and exam­ples and lessons from my 30 years of Coun­selling experience.
You are able to see and do—you dis­cov­er a way of being in the world that is both pow­er­ful and gentle.
---
There's really only one way out—to begin the only adventure worth your time and effort—the adventure of being wholly and fully yourself!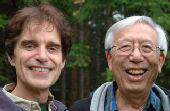 This book is a ver­i­ta­ble smor­gas­bord of exer­cis­es, tips and tales. Like its author, this book is nov­el, light­heart­ed, earnest, quirky, and very help­ful.


~ Ben­net Wong & Jock McK­een
~Co-founders, The Haven Institute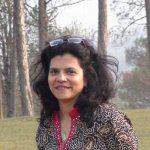 Just want­ed to let you know that I just fin­ished read­ing Half Asleep in the Bud­dha Hall. More than a book it has been an expe­ri­ence. I have always admired the way that you can put pro­found insights across so sim­ply — and effort­less­ly. Thank you so much for all that is there in the book. Of course, this was just a first read­ing and at so many stages the book made me reflect, pause, won­der, and of course, those 'aha' moments. It also gave rise to many ques­tions. And I think your book is one of those that will make the read­er grow with every read­ing, like a rip­ple that takes you in deep­er with every inter­ac­tion with it.
~ Sharmi­la Bhosale
We tend to view life accord­ing to the beliefs of our tribe. That is, our way of look­ing at the world is large­ly influ­enced by our upbring­ing and cul­ture. We view the world from with­in our small cir­cle and think we know the world, but step out­side of the cir­cle and we can see from a very dif­fer­ent per­spec­tive. Not only does the rest of the world look dif­fer­ent, but from this new van­tage point we also gain new per­spec­tives into our own life.
In Half Asleep in the Bud­dha Hall, through tra­di­tion­al and new Zen sto­ries, Wayne C. Allen opens up con­cepts large­ly unfa­mil­iar to most West­ern trained minds. This book, both pro­found and yet easy to under­stand, will gen­tly open your mind to a greater per­spec­tive, an expand­ed aware­ness if you will, that will bring you to a deep­er under­stand­ing of your­self and the world around you.
As an avid pro­po­nent of life-long learn­ing and self-devel­op­ment, I offer my high­est rec­om­men­da­tion for Half Asleep in the Bud­dha Hall to all who are inter­est­ed in their per­son­al evo­lu­tion. A greater per­spec­tive awaits you!
~ Den­nis "Boo­gie Jack" Gaskill
Wayne Allen entices us to look at how we exam­ine who and what we are as we go through our day to day lives. But more than that, he com­pels us to go well beyond exam­in­ing our­selves, and active­ly DO the things that will bring us con­tent­ed­ness.
Replete with anec­dotes, sto­ries, exam­ples and, pro­found intro­duc­to­ry pieces, this book engages us to look deep with­in our­selves, while remain­ing sim­ple. Gen­tle humor and gen­uine hon­esty are used to keep the read­er think­ing, feel­ing, doing and being. Read it.…live it.
~ Debashis Dut­ta, Coor­di­na­tor,
Human Ser­vices Foun­da­tion,
Con­esto­ga Col­lege, Kitch­en­er, Ontario
We all spend a life­time attempt­ing to do only one thing: LOVE OURSELVES
!Wayne has the courage to share with us his own jour­ney to AWAKEN TO LOVE in Half Asleep in the Bud­dha Hall, and in so doing he has guid­ed us to LOVE OURSELVES even more, right here and NOW.
There can be no greater gift.
~ Dr. Scout Cloud Lee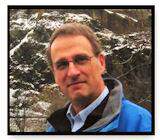 This book, like his book, This End­less Moment, and his blog, is inter­est­ed in mov­ing you off the wheel of think­ing, feel­ing, and doing the same thing, end­less­ly, with the same dys­func­tion­al results.
The book is thought­ful, fun­ny, and filled with con­crete exam­ples of how we cre­ate our own unhap­pi­ness.
It comes at life from a Zen per­spec­tive and invites you to take respon­si­bil­i­ty for you own life. I have found it invalu­able in push­ing me off stuck and into ele­gant actions that are a stark con­trast to my pout­ing, "Why does she make me feel this way" actions that get me more of what I don't want—isolation and anger.
After work­ing with the con­cepts in this book I found I could move toward con­nec­tion, which is what I real­ly want.
It real­ly is so much bet­ter to hug my beau­ti­ful wife than it is to walk out the door in a snit. Much better.
~ William Bradbury
HALF

ASLEEP

IN

THE

BUDDHA

HALL

provides the Zen principles you need to discover how to live life with depth, compassion, and assurance.
So, I hear you asking, what's in the book, and why is it so special?
Half Asleep in the Bud­dha Hall is designed to help you to see the wis­dom that is con­tained in sim­plic­i­ty, in "not know­ing," and in ful­ly liv­ing your life. For­ev­er, Zen has point­ed the essence of life—to clar­i­ty, pres­ence, and hav­ing a sense of humour.
As you read, you will discover:
ways to step back and see the oper­a­tion of your dis­tinc­tion-mak­ing mind.
You'll learn to treat your mind with gen­tle­ness, and stop let­ting it run your life.
3 keys to stop being lost in your head — how to live in the here and now, as you eas­i­ly let go of the dra­mas and sto­ries of the past.
the dif­fer­ence between a desire and real­i­ty — how to wake up, grow up, and get over yourself.
the impor­tance of real­iz­ing you have no self. You'll find the strength that comes from being focused on your present-moment actions.
why your his­to­ry is just that — a sto­ry. You will see clear­ly that, far from being "true" your his­to­ry is made up of events you've strung togeth­er like beads. You'll see that there are many more events that also hap­pened, and that you've cho­sen to ignore.
the les­son of the laun­dro­mat. Each event, even the small ones, is wor­thy of our attention.
the dan­gers of thought loops. You'll dis­cov­er the pat­terns you've cre­at­ed, and how to escape them.
what real bag­gage tells us about emo­tion­al bag­gage. It's always the question—do I trav­el light, or bring the kitchen sink with me? With light­ness comes flexibility!
how Air­Miles can lead to wak­ing up. It's not what we believe is going on—it's what's going on!
when beliefs are obsta­cles. Any time we are more invest­ed in our beliefs than in what is right in front of us, we are lost.
You'll understand:
that a load of intel­li­gence is a dan­ger­ous thing.
how one word sets you free from fear (hint.. it begins with a "p".)
why inten­tions and dreams rarely satisfy.
the 4 Truths that trans­form your life.
why Yogi Berra is a Zen master.
And you'll have real tools—
5 ways to live in the present, persistently.
6 Meth­ods to make bet­ter choices.
3 meth­ods to break the ego­tism habit through self-responsibility.
the best way to escape from Indra's net.
10 exer­cis­es in Zen being.
10 ways to relate with depth and compassion.
---
Half Asleep in the Buddha Hall is designed to help you to wake up.
As I Write in My Book.…
I want to encour­age you to step back from West­ern cul­ture and belief sys­tems, for no par­tic­u­lar rea­son oth­er than to give you a chance to air out your mind. This is meant to be like walk­ing around a stat­ue. The front and the back may seem dif­fer­ent, but it is the same stat­ue, seen from a dif­fer­ent perspective.
Ulti­mate­ly, my wish is that you expand your reper­toire regard­ing how you choose to view, under­stand, and live your life. This book will sug­gest a moment-by-moment path to deep­er, com­mit­ted, and pur­pose­ful living.
You will learn the practicalities of living a full and rich life:
Anoth­er way of putting "All that we are is the result of what we have thought" is "You are what you cling to." We cling to stuff—beliefs, peo­ple, objects—for fear of what will hap­pen, or who we will be, if we let them go.
Yet, all that our des­per­ate cling­ing gets us is dis­il­lu­sion­ment and des­per­a­tion. Non-cling­ing hap­pens as we dis­en­tan­gle the mind from its obses­sion with our thoughts and beliefs. To drop cling­ing, we need to dif­fer­en­ti­ate between moment-by-moment sit­u­a­tions, and our judge­ments and sto­ries about them.
The (moment of awak­en­ing) like all of life, hap­pened in the 'Now.' In a sense, our enlight­en­ment comes when we real­ize that the only way to enjoy life is to enjoy the end­less 'Now.' Just as there is no fixed 'goal,' there is no thing called enlightenment—no fixed state you arrive at. There is just one moment after anoth­er of enlight­ened act­ing. Or, put anoth­er way, I have no life, no fixed thing called 'my life.' I have a string of 'Now,' which is a moment-by-moment unfold­ing. I can sim­pli­fy the process of com­ing into the Now by sim­ply inter­act­ing with the moment.
I do this by choos­ing to step out of my head, my imag­i­na­tion, my pre­tend­ing that I have a life, a past, a future. I step into this moment, and real­ize that all there is, is this moment. I then choose how I relate to it.
Com­mit to walk­ing a path that leads nowhere, walked by no one. One step and one step, this path is always walked in the now-here, (because there can be no des­ti­na­tion, only the walk, until, para­dox­i­cal­ly, you reach the end for all of us—death.)
This wis­dom path is lived with atten­tion to every detail, every interpretation—yet with the recog­ni­tion that 'no one' is walk­ing, 'no one' is inter­pret­ing. Think­ing that there is a 'you' in all of this is your 'stuck tail'—your ego iden­ti­fy­ing with the role of inter­preter, walker.
I know. What the heck is he talk­ing about?
My intent is to sug­gest let­ting go of your present way of see­ing and being, so that you might self-less-ly walk the 'wis­dom path.' Yet, noth­ing changes in the 'real' world. You still have to make a liv­ing and have a life.
So what does change? Your focus, atti­tude, and your com­mit­ment. Instead of mind­less­ness, or grip­ing, or com­plain­ing, you do what you do— you attend to right now—here, and here alone. You chop wood, car­ry water, with total, mind­ful attention.
And then, as your ego pops up, smile and think, 'caught tail.' Let go, give your­self a shake, and go back to playing—being.
Or, you can choose to keep pre­tend­ing that any­one cares, and that res­cue is at hand. 95% of the pop­u­la­tion buys into that delu­sion. Drop me a line if this delu­sion works out for you, eh?
I sus­pect that 'no-one' will reply…
In Zen, we speak of dis­ci­pline. The key dis­ci­pline is 'non-fol­low­ing,' or non-attach­ment. You let each non-help­ful thought go by not cling­ing to it. Now, of course, as with Beth, such thoughts will arise until you die.
Fol­low­ing such thoughts leads to paral­y­sis by analy­sis. This paral­y­sis seems inevitable, until I notice that repeat­ing dys­func­tion­al thought pat­terns caus­es the paral­y­sis. I am 'lost in thought,' and the cure is to stop myself—not by more think­ing, but by act­ing. Less thought, more action. Remem­ber: you cause your­self prob­lems by over-think­ing and under-doing. Pick a way to be, and then just be it. Swing for the fences, let­ting the crit­i­cal thoughts fade into back­ground noise.
And here is the point!
By now, I trust that you 'get' what this book is about—that you cre­ate your real­i­ty, and pop­u­late your real­i­ty by telling your­self sto­ries. The sto­ries are about you, oth­ers, and the world. You under­stand that your sto­ries are just stories—are about as 'real' as nurs­ery rhymes—and real­ize that you are on the path­less path.
---
My goal is to support you on your walk, to help you find peace and satisfaction — and most importantly, to help you use Zen principles to have the kind of fulfilling, rich, and meaningful life you want.
Half Asleep in the Bud­dha Hall is avail­able as:
a paper­back book ($20.00),
as a pdf down­load­able e‑book ($4.00.)
A dig­i­tal E‑Book ($2.99)
You can choose your for­mat by click­ing the link below.
---
---
Half Asleep in the Bud­dha Hall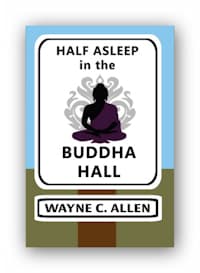 Available formats:
** Paper­back book, 204 pages
** E‑book dig­i­tal down­loads
** PDF download
* Pub­lish­er: The Phoenix Cen­tre Press (June 2009)
* Lan­guage: Eng­lish
*ISBN: 978–0‑9684446–6‑5
---
Purchase Options
Paper­back: $20.00, Kin­dle, dig­i­tal edi­tions $2.99, PDF file $4.00
Paper­backs
Pur­chase paper­back from Amazon.com
E‑Books
Pur­chase Kin­dle ver­sion from Amazon.com
Pur­chase dig­i­tal ver­sions (Apple, Nook, Kobo, etc.) from this page
Pur­chase PDF ver­sion from our site
---
I could go on and on with reasons to purchase Half Asleep in the Buddha Hall, but here's the point: You need to prove to yourself that you can find contentment and peace.
Warm­ly,

---
About the Author: Wayne C. Allen is known on the web as the Sim­ple Zen Guy. Wayne was a Pri­vate Prac­tice Coun­sel­lor in Ontario until June of 2013. Wayne is the author of five books, the lat­est being The. Best. Rela­tion­ship. Ever.