Find Your Per­fect Part­ner — a guide to using your brain to make clear deci­sions about who to be in rela­tion­ship with.
Author: (Wayne C. Allen)
Back in 1999, I wrote a book­let called "The List of 50," a guide on how to find your life part­ner. Part of a series of free book­lets on aspects of rela­tion­ships, "The List" was a guide to decid­ing whom you want to be in rela­tion­ship with, and then putting what you decide into action.
My clients, since then, have asked me to expand upon this con­cept of con­scious dat­ing. So, I com­plete­ly re-wrote the book­let into a 140 page book. In addi­tion to revis­ing the struc­ture and con­tents of the book­let, I have includ­ed com­ments from read­ers, as well as sam­ple Lists of 50.
---
---
You may not recall, but I met you once a cou­ple of years ago while attend­ing a ses­sion with (a client of yours who is a friend of mine) as a qui­et wit­ness of your Body­work. It was quite an intense ses­sion, and I was very hon­oured that she asked me to attend and that you did­n't mind my pres­ence. One activ­i­ty she has shared with me is the infa­mous List of 50 . This act of pos­i­tive­ly explor­ing my needs and desires was very reward­ing. I have shared this idea with many of my friends and fam­i­ly, with many pos­i­tive results and con­struc­tive con­ver­sa­tions.
Not sur­pris­ing­ly, this List was a key com­po­nent in dis­cov­er­ing that the per­son I wished to share my life with was in fact a very close friend of mine. He too com­plet­ed the assign­ments, and through some soul search­ing we real­ized that we were look­ing for each oth­er. Though nei­ther of us had con­sid­ered the act of mar­riage before, the idea of cre­at­ing a sym­bol­ic union nat­u­ral­ly appealed to us.
~ D. Christieson
Select one or more:
–> Read More Reviews
–> Read a Sample
–> More about the Book
Find Your Per­fect Partner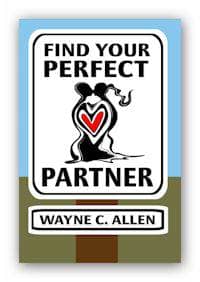 ** Paper­back book, 140 pages,
** Dig­i­tal E‑Book down­loads
** PDF Download
* Pub­lish­er: The Phoenix Cen­tre Press
(Decem­ber 2012)
* Lan­guage: Eng­lish
* ISBN: 978–09877192‑1–8
---
Purchase Options
Paper­back: $20.00, Dig­i­tal E‑Book edi­tions $2.99, PDF $4.00
Paper­backs