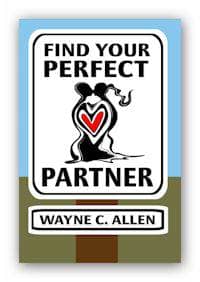 Find out how creating a "List of 50," will help you to find your perfect partner, and get exactly the relationship you want.
---
Most peo­ple think find­ing the right per­son should "just hap­pen." They depend on "the luck of the draw," and typ­i­cal­ly end up with the next bozo in line.
The "cure" is a focused, clear, and direct approach to the whole "find­ing a part­ner" enter­prise. It requires thought, per­sis­tence, and logic.
You must learn how to focus in on get­ting what you want, as opposed to set­tling for "almost, but not quite."
Rather than leave any of this to chance, I devel­oped
The List of 50.
"

The List of 50" is the key to finding Your Perfect Partner.
Here is what else you will discover once you get your hands on this book:
prac­ti­cal, step-by-step ways to do what works and to stop doing what does­n't when it comes to find­ing a new relationship.
the inside val­i­da­tion exer­cise – how to con­di­tion your­self to do the oppo­site of what peo­ple in failed rela­tion­ships do time and time again
three cul­tur­al myths that get in the way of rela­tion­ship success
Are you in love? How to tell the dif­fer­ence between lust and the real thing
the data fil­ter­ing prin­ci­ple – the rea­son you keep get­ting into dead-end rela­tion­ships (and how to change this forever)
why "tak­ing your chances" is the worst way of find­ing your ide­al part­ner (and you'll dis­cov­er a much bet­ter alternative)
how to 'police the lan­guage' in your List of 50 – ways to say what you want, clear­ly and specifically
are you real­ly ready for a new rela­tion­ship? Your answer may sur­prise you!
Why friends are good mod­els for lovers
Click here for reviews, and to read a sample chapter!

Available formats: Find Your Perfect Partner

* Paper­back book, 140 pages, ** Kin­dle download

* Pub­lish­er: The Phoenix Cen­tre Press (Decem­ber 2012)
* Lan­guage: Eng­lish
* ISBN: 978–09877192‑1–8

---

Purchase Options

Paper­back: $20.00, Kin­dle edi­tion $2.99

Paper­backs

Pur­chase paper­back from Cre­ate­space

E‑Books

Pur­chase Kin­dle ver­sion from Amazon.com