Find out how creating a "The List of 50," will help you to find your life partner, and get exactly the relationship you want.
Hi there, Wayne C. Allen here.
Until my retire­ment in 2013, (31 years!) I was a psychotherapist–and I know a thing or two about help­ing peo­ple just like you to find your life part­ner… and then to cre­ate a great relationship.
I've been research­ing this top­ic for decades, (and have been in a pri­ma­ry rela­tion­ship since 1983…) and I know how com­pli­cat­ed all of this can seem.
That's what this letter is all about!
---
One time, I was talk­ing with a client who was real­ly frus­trat­ed. He was just shy of 40, and had a string of failed rela­tion­ships train­ing in his wake. I asked him about his dat­ing strat­e­gy.
"If a woman seems inter­est­ed, I ask her out."

Me: "Well, exact­ly what kind of per­son are you look­ing for?"

Him: "I don't real­ly have a clue."

Me: "Well, do you think that might have some­thing to do with why you keep end­ing up in rela­tion­ships with strange people?"

Him: "How do I fig­ure out what I want?"
I gave him a strat­e­gy that I spell out in detail in my book, Find Your Per­fect Partner.
What's this all about? I'm glad you asked!
Most peo­ple think find­ing the right per­son should "just hap­pen." They depend on "the luck of the draw," and typ­i­cal­ly end up with the next bozo in line.
The "cure" is a focused, clear, and direct approach to the whole "find­ing a part­ner" enter­prise. It requires thought, per­sis­tence, and logic.
You must learn how to focus in on get­ting what you want, as opposed to set­tling for "almost, but not quite."
Rather than leave any of this to chance, I devel­oped The List of 50.
"

The List of 50" is the key to finding Your Perfect Partner.
---
A while back, a friend of one of my clients decid­ed to use the method from Find Your Per­fect Part­ner. She'd been in some strange rela­tion­ships, and did­n't want a repeat performance.
She spent a month read­ing the e‑book and craft­ing her List of 50. She sent it to me for com­ments, and she fol­lowed the direc­tions for imple­ment­ing it.
With­in a few months, she start­ed a new rela­tion­ship with some­one who fits—someone who understands—someone who "gets it." Not sur­pris­ing­ly, her soul-mate was some­one she knew!
Here's what she wrote:
Review
You may not recall, but I met you once a cou­ple of years ago while attend­ing a ses­sion with (a client of yours who is a friend of mine.) One activ­i­ty she has shared with me is the infa­mous List of 50 . This act of pos­i­tive­ly explor­ing my needs and desires was very reward­ing. I have shared this idea with many of my friends and fam­i­ly, with many pos­i­tive results and con­struc­tive conversations.
Not sur­pris­ing­ly, this List was a key com­po­nent in dis­cov­er­ing that the per­son I wished to share my life with was in fact a very close friend of mine. He too com­plet­ed the assign­ments, and through some soul search­ing we real­ized that we were look­ing for each oth­er. Though nei­ther of us had con­sid­ered the act of mar­riage before, the idea of cre­at­ing a sym­bol­ic union nat­u­ral­ly appealed to us.
~ D. Christieson
---
Anoth­er read­er described end­less­ly dat­ing peo­ple she end­ed up leav­ing. She real­ly thought that rela­tion­ships "just hap­pened," and that she was some­how com­pelled or required to go out with any­one who showed up on her door. After read­ing Find Your Per­fect Part­ner, she wrote her List of 50.
Not only did she find her life part­ner, she learned a big les­son about herself:
Review
…Most of all, it made me con­sid­er things that I'd nev­er real­ly tak­en the time to think about. Pre­vi­ous­ly, I did­n't know that I had any say or any con­trol in who I end­ed up with. It brought some real­i­ty and con­trol into that mys­te­ri­ous, mag­i­cal world of Love.
And that's just the beginning!
Not only does this book go into the details of cre­at­ing your own List of 50, but here is what else you will dis­cov­er once you get your hands on this book:
prac­ti­cal, step-by-step ways to do what works and to stop doing what does­n't when it comes to find­ing a new relationship.
the inside val­i­da­tion exer­cise – how to con­di­tion your­self to do the oppo­site of what peo­ple in failed rela­tion­ships do time and time again
three cul­tur­al myths that get in the way of rela­tion­ship success
Are you in love? How to tell the dif­fer­ence between lust and the real thing
the data fil­ter­ing prin­ci­ple – the rea­son you keep get­ting into dead-end rela­tion­ships (and how to change this forever)
why "tak­ing your chances" is the worst way of find­ing your ide­al part­ner (and you'll dis­cov­er a much bet­ter alternative)
how to 'police the lan­guage' in your List of 50 – ways to say what you want, clear­ly and specifically
are you real­ly ready for a new rela­tion­ship? Your answer may sur­prise you!
Why friends are good mod­els for lovers
More client comments!
Review
I'm pleas­ing myself over the fact that you are writ­ing a book based on the List of 50. I find it iron­ic actu­al­ly because the tim­ing is rather impec­ca­ble. I final­ly, after 6 long months of emo­tion­al and phys­i­cal celiba­cy decid­ed to re-write my list. This time I did a good job, not a half assed job as I was so used to doing in the past. I real­ly used the tools in the book; I exam­ined my old pat­terns, past rela­tion­ships and myself and came up with my true List of 50.
At the time I re-wrote it I was going through some­thing with an old friend. As soon as I sev­ered the neg­a­tive rela­tion­ship I allowed myself to find the man that fit my list 100 per­cent. I actu­al­ly showed him the list and he laughed and said "You wrote this after you met me didn't you?" I had­n't, as a mat­ter of fact I had writ­ten it about 4 weeks ear­li­er. He and I have spent the sum­mer togeth­er get­ting to know one anoth­er and each other's chil­dren and we are enjoy­ing all that goes along with it.
I have also been using tools from build­ing long and last­ing rela­tion­ships and I am find­ing that they are tru­ly help­ing me to not go back to old pat­terns. I am hon­est with him and with myself and I rarely give any­one oth­er than myself the pow­er to make me feel any­way. I find this one dif­fer­ent in the sense that I have built my own secu­ri­ty and I no longer feel a need for urgency. I am not rush­ing things and still enjoy time on my own. When­ev­er I see myself slip­ping into my old pat­terns I sim­ply stand back and observe with­out judg­ment and cor­rect where I am with self aware­ness and of course breath.
Review
When I showed my List of 50 to one friend he com­ment­ed, "Do you have a short list that us mere mor­tals could aspire to?" My answer was, "I had a short list and it got me my ex-hus­band. I'm being more par­tic­u­lar now."
Does any­one fit my list? Well, I have "tried" a rela­tion­ship with one man that almost fits my list but a few of the very impor­tant points were not met (high ener­gy, engag­ing ful­ly in life being the most impor­tant). Hav­ing the list made it very clear. He remains a very, very close friend so that's a good thing.
I have "reunit­ed" with a fel­low I went out with some 32 years ago who has poten­tial for fit­ting my list. I say poten­tial because it will take time to know. We live in dif­fer­ent provinces, which is a dif­fi­cul­ty, of course, but seem to be begin­ning to explore the pos­si­bil­i­ty of rela­tion­ship over the phone for now. (By the way, I've sug­gest­ed he read the book­let and write out his own list. I'm kind of hop­ing he'll notice I fit his. Might not work that way but I'm will­ing to take a chance.)
This lat­ter con­nec­tion, made after I had writ­ten my list, has me think­ing that it real­ly is pos­si­ble that some­one out there could fit it. so that alone has been ben­e­fi­cial.
A final thought. As I re-read my list (not quite dai­ly but fre­quent­ly) it is clear to me that besides the qual­i­ties that are spe­cif­ic to another—height, pro­fes­sion, etc.) the qual­i­ties I want in a man are the qual­i­ties I work towards for myself. That is, being a per­son of integri­ty, car­ing, com­mit­ted to my psy­cho­log­i­cal and phys­i­cal health and devel­op­ment. It was inter­est­ing to note that. Not sur­pris­ing, just interesting.
Review
I want to give you an update on the effects of my List of 50. I very much was want­i­ng a rela­tion­ship in the spring and sum­mer and, after writ­ing out my list, read it often and gave it to a num­ber of friends, both as a "giv­ing it away" and as a request for fix­ing up.
I was also aware that I real­ly did need time alone to get deep­er into my own Being, to learn to feel not just com­fort­able but hap­py with being alone. This fall, although there was still a part of me want­i­ng rela­tion­ship, I clear­ly accept­ed and decid­ed I more want­ed to be alone, for the present at any rate. My life is full and I have plans to be away next year on sab­bat­i­cal. A con­scious rela­tion­ship takes time and effort and I was hap­py to work on my self alone.
Well, as we know, giv­ing some­thing away seems to be the major ingre­di­ent in receiv­ing. Three weeks ago I met the cousin of my friend and with­in 3 con­ver­sa­tions we both knew this was for life. Tim­ing was excel­lent as we both had hol­i­days and spent a week togeth­er. The know­ing only increased. He match­es 49 out of my list of 50! (And I already have a good car mechan­ic so I can eas­i­ly give that up.)
Lov­ing has nev­er been so easy, so sacred, so heal­ing. Thank you.
---
Select to –> Read a Sample
Find Your Per­fect Partner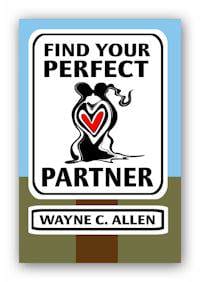 * Paper­back book, 140 pages,
** Dig­i­tal E‑Book down­loads
** PDF Download
* Pub­lish­er: The Phoenix Cen­tre Press
(Decem­ber 2012)
* Lan­guage: Eng­lish
* ISBN: 978–09877192‑1–8
---
Purchase Options
Paper­back: $20.00, Dig­i­tal E‑Book edi­tions $2.99, PDF $4.00
Paper­backs
Pur­chase paper­back from Amazon.com
E‑Books
Pur­chase Kin­dle ver­sion from Amazon.com
Pur­chase dig­i­tal ver­sions (Apple, Nook, Kobo, etc.) from this page
Pur­chase PDF ver­sion from our site
---
Review
Rather than hop­ing to find the right part­ner in life through luck or ran­dom chance, Find Your Per­fect Part­ner shows you the self-respon­si­ble, pro-active approach that leads to sol­id results. There are plen­ty of good psy­cho­log­i­cal insights for men or women here, whether you're look­ing to start a new rela­tion­ship or not, but its real strength, to me, seems to be in help­ing a per­son fig­ure out exact­ly what they do want in a part­ner and get­ting past the inter­nal fil­ters that con­tin­u­al­ly set them up with the wrong part­ner. It's anoth­er gem by Wayne.
~ Den­nis "Boo­gie Jack" Gaskill
Find Your Per­fect Part­ner is what you've been look­ing for.
---
I could go on and on with rea­sons to pur­chase Find Your Per­fect Part­ner today, but here's the point:
You need to prove to yourself that you can experience your own personal miracle.
Do it today!
Warm­ly,

---
P.S.
What will your life look like after you have implemented the techniques you'll learn in
Find Your Perfect Partner?
I don't know.
What I can tell you is that hun­dreds of peo­ple just like you have read this book, and my read­ers call and e‑mail to order copies to give to friends and loved-ones. This book works!
But you may still be reluc­tant to buy this amaz­ing book.
I under­stand. But ask your­self this:
Where will that leave you?
How is your love life, right now? Do you think doing more of the same will sud­den­ly give you the life you so des­per­ate­ly want?
I can guar­an­tee that more of the same will get you more of the same.
Will you spend the rest of your life regret­ting not learn­ing how to have the best rela­tion­ship possible?
Absolute­ly.
I can't make the deci­sion for you. I can help you, but you've got to take the first step.
And here's anoth­er guar­an­tee. If you get stuck, and want to talk, my con­tact infor­ma­tion is here on my site, and includ­ed with the book. I'm seri­ous about want­i­ng walk with you, as you find your life part­ner, and become all you can be.
P.P.S. And remem­ber, we guar­an­tee that all of our books will help you to soar! We're that confident!
---
About the Author: Wayne C. Allen is known on the web as the Sim­ple Zen Guy. Wayne was a Pri­vate Prac­tice Coun­sel­lor in Ontario until June of 2013. Wayne is the author of five books, the lat­est being The. Best. Rela­tion­ship. Ever.